An American author of more than 225 romance novels, Nora Robert once said that "I do indeed write on the road. My laptop goes with me everywhere".
For a writer, a laptop is a trusty partner, so its quality matters. In this article, we reveal the best laptop for writers and the features a writer's laptop ought to have.
Best Laptops For Writers To Buy
Bloggers, writers, and authors spend a lot of time with their laptops. So keep the following features in your mind while you purchase a laptop.
Better battery life
For writers, reading experience is important. So consider the screen resolution.
Comfortable keyboard
Compact design for laptop, so you can carry it easily.
Some of the best laptops and its features are explained below.
Google pixel book Go
CPU: Intel Core m3- Intel Core i7
Graphics: Intel UHD Graphics 615
RAM: 8GB- 16GB
Screen: 13.3 inch Full HD (1,920 * 1,080) or 4K LCD touchscreen
Storage: 128 GB- 256 GB eMMC
The price starts from $649 and has an 8th Gen Core m3 Y-Series CPU and a 64 GB SSD. This is the base model of Google Pixelbook Go. The advanced version of pixelbook starts from $849 which comes with an Intel Core i5-8200Y processor, 8GB of RAM, a 128GB SSD and a 1080p display.
It also introduces a model for $1,399 which comes with an 8th Gen Core i7 Y-Series CPU, a 256 GB SSD and a 4K display. Google Pixelbook Go will not be there if you are looking at the best laptops under $500. Even though it is a bit expensive, this Google's chromebook provides most of the features required for a writer or author.
It's underside comes with a new ribbed grippable design which makes it comfortable to place on your lap while you are writing when travelling.
HP Spectre x360 (2020)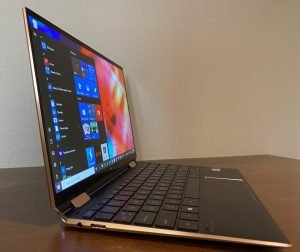 HP Spectre x360 featured with a powerful CPU is an awesome option for writers who uses laptops most of the day. This version is the best laptop that HP has ever made. Its stylish and high-quality finish makes it attractive and it has great all-round performance.
It introduces new components and multiple built-in security features. But this lessens the battery life of the system and it can run hot at times. So when considering the battery life, HP Spectre x360 is not a good option.
But it has many features that can coverup this single disadvantage.
CPU: 10th-generation Intel Core i5 – i7
Graphics: Intel Iris Plus Graphics
Scree: 13.3" diagonal 4K (3840 * 2160) UWVA BrightView micro-edge AMOLED multitouch
Storage: 256 GB – 2TB SSD
This updated new version costs $1,7499.99. Although this is much expensive for a laptop, you will not find one with the same quality, features, design, and performance in the market.
This laptop is suitable for writers but not for a gamer. Because it lacks a proper graphics card which means that big games are beyond your reach.
ASUS VivoBook S15 (S532F)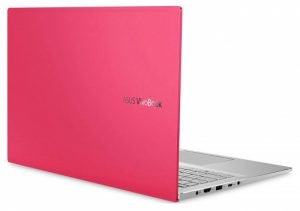 ASUS VivoBook S15 is a best laptop for a writer, but not for a gamer. It has a slimline design which makes it easy to carry while travelling. ASUS VivoBook S15 has a string Intel Core i7 with high quality performance.
But it cannot handle high resolution gaming. As said earlier, it is easily portable as its weight is about just 1.8 kg and has a bright, colorful screen of 15.6 inches. The only disadvantage it has is battery life.
The system features merely average battery life. So it doesn't suit a person who uses the system for 24 hours. The other features are:
CPU: 10th-generation Intel Core i5 – i7
Graphics: Intel HD 620
RAM: 8GB – 16GB
Screen: 15.6" LED-backlit Full HD (1920 x 1080) 16:9 Frameless four-sided NanoEdge display
Storage: 256GB – 1TB SSD
The price of the 15-inch model starts at just $700 along with 8 GB memory and 256GB SSD.
Apple MacBook Pro (13-inch)
Apple MacBook pro brings some minor updates to last year's Apple MacBook. It brings a thin and light design with excellent battery life. Like any other Apple product, Apple MacBook pro provides a decent performance and good build quality.
So for a writer, blogger, or author Apple MacBook pro is not an excellent or ideal option when considering its price. It's not a very powerful laptop, you will find many powerful laptops at less than this price.
But its size is very small and thin which is always comfortable to handle with. So if you are looking for a compatible laptop with long battery life and rate is not a matter for you, then Apple MacBook pro is a perfect choice for you.
CPU: 1.4GHz quad-core Intel Core i5 – 2.8GHz quad-core Intel Core i7
Graphics: Intel Iris Plus Graphics 645 – 655
RAM: 8GB – 16GB
Screen: 13.3-inch (diagonal) 2560 x 1600 LED-backlit display with IPS technology
Storage: 128GB – 2TB SSD
Dimensions: 0.59 x 11.97 x 8.36 inches
The basic version of Apple MacBook pro with a 1.4GHz quad-core 8th generation Intel Core i5 processor costs $1,299.
Apple also introduced a mid-range model that comes with the same processor and RAM, but doubles the amount of storage space to 256GB for $1,49.
ACER Chrome Book R11
ACER ChromeBook R11 is a MacBook Air inspired version of ACER. But this is affordable than MacBook Air with exact same qualities and features. Acer chromebook R11 features good battery life and has a 350-degree hinge.
The main benefit of this Chromebook R11 is its size and weight. It is just 1.25 kg and has a very small frame. This makes the laptop convenient to use while travelling.
CPU: Intel Celeron N3150 1.6GHz – Intel Celeron N3160 1.6GHz
Graphics: Intel HD Graphics – Intel HD Graphics 400
RAM: 2GB – 4GB
Screen: 11.6-inch 1,366 x 768 HD IPS touchscreen
Storage: 32GB
The ACER Chromebook R11 performs admirably even when you open hundreds of tabs at the same time. The Intel Celeron N3150 processor and 4Gb RAM performs amazingly even with these hundreds of tabs of YouTube music, google docs, and Google play music.
Its challenging to find a laptop built alone for a writer. The best laptop for writing has many features as listed above. In this digital age, ebooks are popular, so its essential to get a laptop that offers high performance.
If you are in search of laptops suitable for writing, then consider this article as a refernce.